Blue Star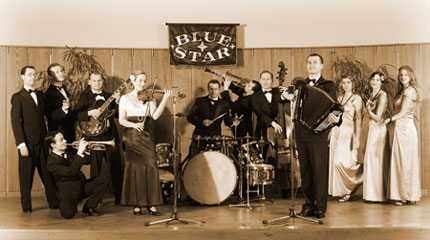 The ensemble, which Václav Marek founded in September 1999, interprets dance and swing music from the 1930s and 40s. Over its time in existence, the ensemble has many performances under its belt as well as cooperation with the Klicper Theatre in Hradec Králové, the East Bohemia Theatre in Pardubice, Žofín Palace and the Semafor Theatre in Prague and the Týniště Swing Festival among others as well as foreign guest appearances in Nuremberg, Leipzig, Dresden and Brussels. The ensemble has also for example played at Prague Castle, on Czech Television, TV Prima and Czech Radio. The following have cooperated or cooperate with Blue Star: Zdeněk Svěrák, Jiří Suchý, Jitka Molavcová, Josef Zíma, Miloň Čepelka, Daniela Šinkorová, Aleš Cibulka and Michal Stejskal.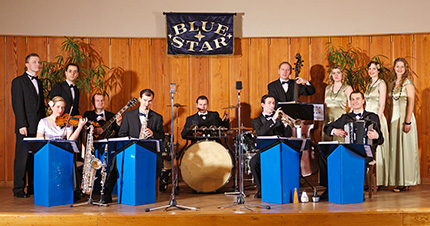 Concerts, important social events, representative balls, city celebrations, corporate events. Special offer of Christmas concerts with Christmas songs and carols.


The ensemble has only one wish
... for the audience of today to have as much fun as audiences past.